Travel Information
Irkutsk is located close to the center of an arc connecting Kaliningrad in the western enclave of Russia with Kamchatka at the eastern end. The city attracts many tourists every year, both Russian and foreign, mainly due to its proximity to Lake Baikal. The lake is well known in the world as "The Pearl of Siberia". It is the deepest reservoir of fresh water on the Earth.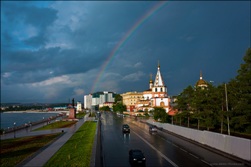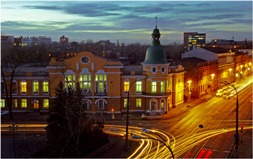 To get to Irkutsk, you can use various routes and diverse transportation: railroad from Europe, China, or even Pyongyang; the car (but roads are not so good!), or the most popular way to travel these days – the plane. In the latter case, your plane can fly via Moscow, if you live in Europe, Africa and western Asia, or through Beijing, if the starting point of your travel is China, the U.S. Pacific coast, or Japan. Irkutsk International Airport receives 6 flights a week from Beijing and 41 flights a week from Moscow. You can also come to Irkutsk by direct flights from Vladivostok, Bangkok, Seoul, Ulan Bator, Cam Ranh (Vietnam) and many other cities in Russia and Asia. The airport is located fairly close to the city center and buses, trolley coaches, and minivan cabs run frequently between the airport and Kirov Square (the central square not far from the Irkutsk Hotel) and other points in the historical center. It normally takes about 30 minutes to get to the airport from Kirov Square by bus or by trolley coach during a rush hour and costs 20 Rubles. 
Irkutsk is a relatively compact city in the historical center and traffic jams are not as hard as that for a 600,000-population city. It is a very unmounted city within the center, and for those who want to save time or travel between one side of the river and the other, the public transportation system is fairly good. Knowing, at least, how to read the signs on the buses and bus stops is helpful, and, when seeing minivan cabs, you have to wave and the driver will pick you up. Oddly enough, the names of major bus stops are posted on kiosk roofs parallel to the road so, that the names are not often visible from inside the bus. The bus and minivan cab ("marshrútka") fare is usually 20 Rubles. The local etiquitte expects you to pay the driver when exiting the bus or trolley coach (therefore, you can exit only through the front door). In streetcars, conductors sell ticket.
You can find plentiful information on Irkutsk at WikiTravel which includes the description of the most popular city's attractions.